TRINITYCHURCH, LEEK
METHODIST/UNITED REFORMED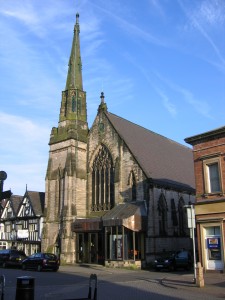 Trinity Church was formed in 1977 by the union of Leek Central Methodist Church and The United Reformed Church in Derby   St. – two congregations whose roots lie deep in English Nonconformity.  While Methodist witness began in Leek in 1754, Protestant Dissenting witness began on this site in 1695.  This short paper aims to explain our origins and where we are today.
Trinity Church before 2011 refurbishment
Origins of the Protestant Meeting House
1689    Toleration Act gave permission for Protestant Dissenters who believed in the Trinity to hold acts of worship, provided they met behind unlocked doors.
1695    Registration of a Meeting House on this site in Derby St. (Our oldest deed shows the purchase of land for this in 1683.)
1715    Rioters damaged the Meeting House on 'Fair Day'.
Methodist origins in Leek and other developments
1754    Travelling Methodist preacher, Thomas Hanby, visited Leek.  The first preaching place in the town centre was The Black's Head Inn Yard. (Site of Yorkshire Trading).
1772    First visit of John Wesley to Leek.
1785    First Permanent Methodist Chapel (pictured)built at Mount Pleasant in Clerk Bank. (Site of Beth Johnson flats.)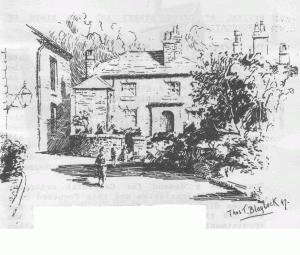 1797    The Leek Sunday School founded by Charles Ball, meeting in the Old Grammar School in Clerk Bank and then in The Theatre in The Swan Hotel Yard.
1813    Congregational Sunday School formed in Black's Head Inn Yard. (By now the Protestant Meeting House, originally Presbyterian was Congregationalist.)
1815    Wesleyan Sunday School rehoused at West St., where a day school opened in 1853 and was open until 1983.
1827-8  TheBall Haye St.Sunday School founded 1827 was enlarged by James Wardle to formBrunswickMethodist Chapel. Brunswick moved toMarket St.in 1856.  Ball Haye St. continued as a Sunday School and became a day school from 1840 to 1912.
During the nineteenth century Nonconformist life in Leek grew and multiplied.  Wesleyan Chapels opened at Ball Haye Green andMill   St., whileFountain St.housed the Primitive Methodists, andBethesdathe Methodist New Connexion.
1829-62    Most members of Derby St. Congregational Church moved to Union St. following a dispute with the minister.  A new chapel was built in Union St. but the split had ended by 1862, when
1863    A NEW CONGREGATIONAL CHURCH WAS BUILT ON THE DERBY ST. SITE BY THE ARCHITECT WILLIAM SUGDEN.
This is the present building on this site and replaced the old chapel of 1793.
Pictured – Trinity Church before refurbishment in 1981
1876    Alsop St.Congregational Mission Church opened in the Hargreaves building which still stands today.   It is now a housing development.
 Twentieth Century Development.
1972    United Reformed Church formed by union at national level of the Presbyterian Church of England and the Congregational Church of England and Wales.
1976   Central Methodist Church formed by union of Mount Pleasant and Brunswick
1977    TRINITY CHURCH FORMED ON THIS SITE BY THE UNION  OF CENTRAL METHODIST AND THE UNITED REFORMED             CHURCH IN LEEK.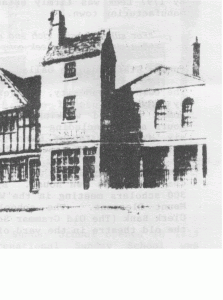 The 1793 Derby Street Meeting House, with Minister's house next to the Roebuck Inn.
1980-81         Trinity was extensively refurbished with a flexible worship area and an opening up of the front to make a window on Derby St. (West St. School was used for worship during this time.)
1981    The refurbished Trinity Church opened in May.
Twenty-first Century
2002    Ball Haye Green Methodist Church joined with Trinity in Ocotober.
*  *  *  * *  *
TrinityChurch, heir of two denominations, is classed as a Local Ecumenical Partnership.   It is covered legally by The Shared Buildings Act of 1969.  The ministers at the time of the union in 1977 were Brian Westwood (minister in Leek since 1974) and John Farrar (minister in Leek since 1973), and we owe much to their courage and vision.  Since then we have had alternating ministers of the Methodist and United Reformed Churches.  We have received from each other different ways of working – the Church Meeting as the decision making body and membership of the Leek Methodist Circuit.
Our worship is enriched by two traditions and we make use of the resources provided by our two parent denominations.
Trinity Ministers since 1977
John Farrar.  1977 – 1978 (Retired)  (URC)
Brian Westwood 1977-79  (Methodist)
Colin Cooper 1979-91  (Methodist)
John Marsh  1991-1999  (URC)
John Simmonds  2000-2006  (Methodist)
Richard Pope  inducted March 2007 – present dsay (URC)
The present building was refurbished in 1981 when the window on Derby St. expressed a wish to be responsive to, and aware of, the life of the town.  A further refurbishment took place in 2011to make the premises more accessible for all and to upgrade existing facilities.
We witness today with thankfulness for the past and hope for the future.  Many Christian traditions have come together in this church.  We aim to present and live out the gospel in the present age as we seek to be disciples of Jesus today.